Sahuarita Area Information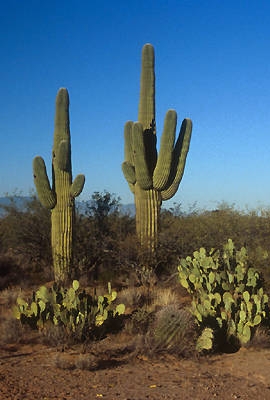 Sahuarita (saw wah REE ta) was incorporated in September 1994, but the area's rich history dates back much further as a mining and ranching community. The Town's boundaries encompass a 30 square-mile area, and include rural settings such as the pecan groves on the Town's east side, as well as many housing developments. Surrounded by majestic mountain ranges, Sahuarita has a growing number of family residential areas in a semi-rural setting as well as three master planned communities (Rancho Sahuarita, Quail Creek, and Madera Highlands). Sharing a southern border with the retirement community of Green Valley, the area offers direct access to Tucson and Mexico via Interstate 19.

Known for its peace and natural beauty from the time primitive Hohokam Tribes first settled in the fertile river valley, Sahuarita is now preparing for tomorrow. Surrounded by expansive views of desert vegetation and majestic mountains, Sahuarita is rediscovered every day by people who are seeking a community that is convenient, consistent and complete. It is a community that complements the lifestyles of all generations. Key to Sahuarita's inevitable growth is planning and purpose. It is vital that expansion provides for the well-being of current and future residents while retaining the history, grace and charm of it rich past and natural beauty.

With a population of approximately 25,000, Sahuarita is one of Arizona's fastest growing areas as people move here for the scenic beauty and small community atmosphere. Sahuarita is approximately 2,844 feet above sea level.

A team of experienced and dedicated individuals has been assembled under the direction of the Town Council. Their role is to keep alive the traditions of the past and to carry out the vision of today's residents. These are the cornerstones of the Town of Sahuarita - values that make it unique among contemporary towns.

Scenic Attractions
Sahuarita is located in the historic Santa Cruz Valley, surrounded by early Spanish missions, frontier outposts and old mines. Tubac, to the south, the oldest Spanish settlement in the southwest, is now an active artist's colony. The San Xavier del Bac Mission and the Tumacacori National Monument are Spanish missions built by the Jesuits in the early 1700's. San Xavier del Bac Mission is located 14 miles north of Sahuarita.

Recreational opportunities are plentiful: Pena Blanca Lake, Arivaca Lake, Madera Canyon, Kitt Peak Observatory, the Tohono O'Odham Indian Reservation, the Mexican border at Nogales and Tucson are all within an hour's drive.

Sahuarita is home to the Titan II Missile Museum, the only one of its kind in the world, with more than 50,000 visitors annually.



WEATHER

Low humidity is the rule most of the year. Nighttime winter temperatures in the 30's are not uncommon, but days are generally in the 60's and 70's. Summer nights cooling down to the 70's with the days reaching highs in the 90's and 100+.



LOCATION

Sahuarita is located 15 miles South of Tucson off of I-19 and 45 miles North of the Mexico border.

HIGHWAYS: I-19 Tucson/Nogales Hwy.
DISTANCE TO TUCSON: 15 miles
DISTANCE TO PHOENIX: 130 miles
DISTANCE TO NOGALES, SONORA, MEXICO: 45 miles
COUNTY: Pima County



SALES TAX

State sales tax is 5.6 %, except for real-estate, prescriptions, and groceries for home consumption. An additional 2 % is imposed in Sahuarita on goods taxed by the state.

TIME ZONE

The State of Arizona is located in the Mountain Standard Time Zone (MST). Arizona is one of only two states that does not make an adjustment for Daylight Savings Time, and during the months of April through October, Arizona time mirrors Pacific Daylight Time.

FURTHER INFORMATION

While you are visiting, stop in at the Green Valley-Sahuarita Chamber of Commerce located at 275 W. Continental Road, Ste. 123. Here you can gather much information on what to see and do in Green Valley and the surrounding areas or visit the Green Valley-Sahuarita Chamber of Commerce website www.greenvalleychamber.com or call toll free 1-800-858-5872.

Sahuarita, Arizona - Additional Information